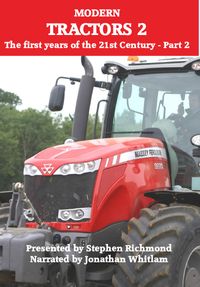 Tractor enthusiasts Stephen Richmond and Jonathan Whitlam have now turned their attention to the machines which are currently at the forefront of technical sophistication: the tractors of the last ten years.
They have made two DVDs. In Part One, released in December 2009, they tackled John Deere, Claas, Valtra, Same Deutz-Fahr and Case IH.
In Part Two they conclude with New Holland, McCormick and Landini, Fendt, Challenger and Massey Ferguson.
In each case they build up the picture by starting with the foundation models before going on to the latest variants. Stephen and Jonathan also take a look at the computer control systems used to pre-program the tractors' main functions as well as the implements used behind and the new self-driving features made possible by satellite technology. Axle and cab suspension also comes under the spotlight as the story of the modern tractor continues to unfold.
Stephen and Jonathan have been filming and scripting videos for over eleven years. They now divide their time between running Tractor Barn Productions and operating tractors and machinery on local Suffolk farms.
Modern Tractors Part 2, presented by Stephen Richmond, narrated by Jonathan Whitlam, DVD approx 70 minutes. A Tractor Barn Production IN STOCK at Old Pond at £15.95.