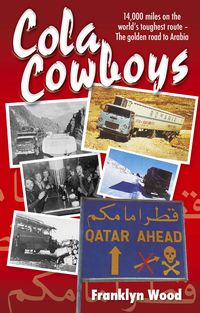 In 1981-2 journalist Franklyn Wood  joined a group of truckers taking goods from the UK to the Middle East. His vivid story told it as the trucker saw it - with all the frustrations, challenges and elation of the trip.
Cola Cowboys, Franklyn Wood, paperback, 328 pages including 8 pp photos. ISBN 978-1-906853-39-6. First published 1982, new edition in stock at Old Pond, £9.95.
This lively, opinionated account shows the journey to have been rough, tough, exhausting, dirty, uncomfortable and dangerous. Franklyn Wood reports that 'in the course of the one trip we are following, seven Britons died in accidents.'
Among the physical hazards were icy mountain hairpins, unmade roads and desert sandstorms. Human hazards included Kamikaze coach drivers, robbers, mind-numbingly slow border controls, rogue police and the temptations of the drivers' favourite watering holes.
The route led from Europe, through Turkey, Iraq (during its war with Iran) and on to the wealth and culture shock of Kuwait and Saudi Arabia.
The reprint has been re-set and lightly edited for a generously sized paperback edition. The original photographs are included along with the route maps.