Tractor Barn Productions, run by Stephen Richmond and Jonathan Whitlam, has now released their film of the 2009 event.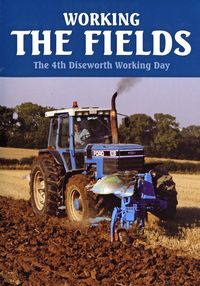 Working the Fields: the 4th Diseworth Working Day, DVD, approx 90 minutes, ISBN 978-1-906853-40-2, released 2010, is available from Old Pond at £15.95 inc. VAT .
 Diseworth, Leicestershire is host to an outstanding annual working day. The 2009 event, recorded by Tractor Barn Productions, was also the occasion of the Ford & Fordson Association's national ploughing finals.
Vintage farming was represented by a horse ploughing match, wheat going through the binder and threshing drum, and five classic combines at work. The Kegworth Vintage Agricultural Club's ploughing match fielded 82 ploughmen turning over the Diseworth soil.
Among the many tractors on view in this programme are a Ford 8730 with a Ransomes push-pull plough, Cat D8 and D4 crawlers, IH 1056XL and a Muir-Hill 121. Does were represented by a Triple D and a Dual Power.