Just had a weekend in south Devon recording footage for the forthcoming DVD Ford Tractors 1964-85, following recordings we made last year. Stills from 2009 are on the blog at 22 July and 22 August 2009.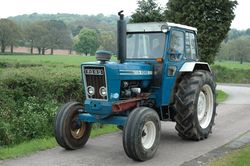 This year we started at Parklands farm, Awliscombe, near Honiton where Ian Maynard demonstrated a Ford 7600 Dual Power (left) belonging to Michael Persey. The tractor was registered in 1976.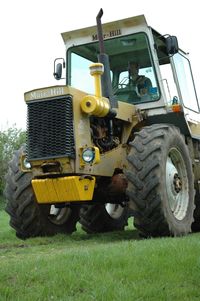 A couple of years later, this Muir-Hill 121 first saw the light of day. It is now owned and driven by Peter Ellis, near Axminster. Peter's family turned up to help him cut and load wood from the railway embankment.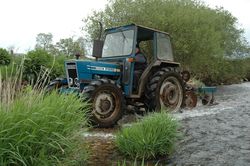 Jump another three years to 1981for the Ford 4600 4wd with a Lambourn cab (above left) owned and driven by Edward Underdown at Nag's Head farm, Gittisham. He has just taken the Ford Ransomes TS90 3-furrow plough across river in the area of the Honiton showground.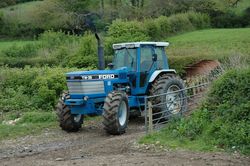 First prize for classic unrestored tractors at the 2009 Honiton show was awarded to Giles and Val Bamerger of Lomas farm, Honiton for their Ford TW-35 Series II (right). Giles had the 1986 machine handling a Dowdeswell DP7 5-furrow plough.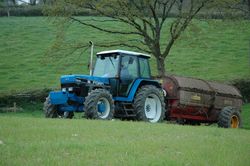 It was into the early 1990s for Les Ellis's Ford 7840 Powerstar SL (left). We filmed him manuring pasture with a Marshall 10.5 cu m side-discharge dung spreader.