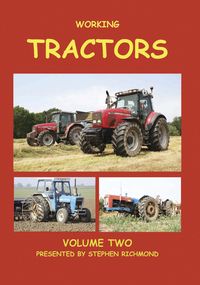 In their second collection Tractor Boys Stephen Richmond and Jonathan Whitlam have a wide assortment of tractors for you to see and hear in action. They have been filmed at work with a range of implements and accessories on arable, mixed and livestock farms in Sussex, Suffolk and Nottinghamshire. As before, the film-makers include a look at their archives as well as some out-takes.
Stephen Richmond's lively presentation makes this a programme to keep you awake after the heaviest Sunday dinner.
Working Tractors Volume Two (Tractor Barn Productions), presented by Stephen Richmond. Approx 50 minutes plus extras. ISBN 978-1-906853-47-1. Available now from Old Pond  at £9.95.
Old Pond also has a growing range of other DVDs from Tractor Barn.
Tractors featured in Working Tractors Volume Two:
Case-IH Maxxum MXM 120
Challenger MT 845
Ferguson TEA 20
Doe Triple-D
Fendt Favorit 308
Ford 4100
Ford 5610 Force 2
John Deere 6630
Lamborghini Premium 1300
Marshall 802
Massey Ferguson 3085
Massey Ferguson 6270
Massey Ferguson 8220
New Holland TM 155.