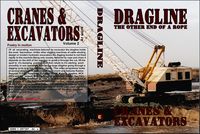 In 1998 Geoff Lewis began recording big plant at sites in Wales and elsewhere. He started with Ruston-Bucyrus, the company in which he had served his apprenticeship after leaving Swansea Secondary Technical school.
Eight more programmes followed over the years, offering what must surely be a unique view of draglines, grab cranes, dozers, excavators, scrapers, dump trucks, face shovels and graders at work over the past decade. Nine DVDs - over nine hours of viewing.
Geoff's interests now have changed to scale engineering. He is building a one-eighth working model inspired by the Lima 1201 and Marion 1-11, making all the component parts and finely engineering it in steel. He expects the final weight to be 350-400 pounds.
Geoff has sold the masters and rights in the DVDs to Old Pond which is planning to release the complete series - as well as some extra footage recently edited by Geoff - in one set in February next year.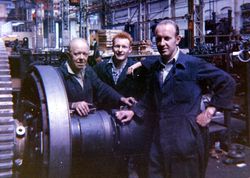 Geoff (centre) during his Ruston-Bucyrus apprenticeship days.