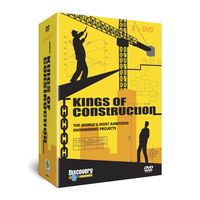 Kings of Construction, Discovery Channel. 8-disc DVD set, approx 6½ hours, released 2007. £21.95 inc VAT. Now available again at Old Pond.
This popular DVD set, which runs for more than six hours, tells the stories of some of the world's most demanding building projects. These pioneering dreams require ambitious designs, vast amounts of money and nerves of steel as engineers, builders and architects attempt to deliver on time and to budget.
The projects:
• Gotthard base tunnel, 58 kilometres through the Alps.
• Hallandsas ridge tunnel, Sweden. Two 8-kilometre tunnels to enable train access from Sweden to the rest of Europe.
• Operation Snohvit. The building of Europe's first liquefied natural gas plant, in Cadiz, Spain.
• Hong Kong cable car. The longest detachable cable car system ever constructed.
• Stonecutters bridge, Hong Kong. Connecting Hong Kong with the mainland across the harbour, a main span of over a thousand metres.
• Hoover dam bridge. America's longest arched bridge, spanning the Black Canyon 275 metres above the Colorado river.
• El Cajon dam, Mexico. The highest rock-filled dam ever constructed.
• The Dubai ski resort. Building the world's biggest artificial ski slope in the middle of the desert.