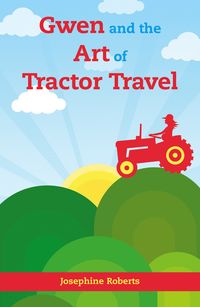 Gwen and the Art of Tractor Travel, Josephine Roberts. Paperback book, 198 x 129 mm, 148 pages inc. 4pp photographs. ISBN: 978-1-906853-84-6. Now in stock at Old Pond at £7.95.
As a heavily pregnant woman in possession of a vintage tractor, Gwen faces the question of a lifetime: how to do something special during her last few weeks of freedom? Her answer: to embark upon a solo tractor journey, travelling at 12 miles an hour through the Welsh countryside.
Following many of the most difficult and least-travelled roads, Gwen makes her way in a disorganised fashion through the breathtaking Welsh hills via campsites and farmers' fields. She encounters the most extraordinary characters and draws a few conclusions about life, all the while describing the Welsh scenery from the lofty seat of her Massey Ferguson.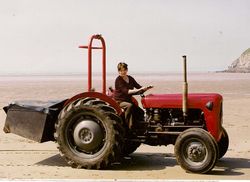 Josephine Roberts is a regular contributor to magazines in Britain and America. She uses her 1960s Massey Ferguson 35 to maintain her smallholding in the foothills of Snowdonia where she lives with her two young children and her partner in a house that has been in her family for three generations. The photograph shows Josephine on Pendine Sands at the start of her trek from Carmarthen Bay to the Llyn peninsula.