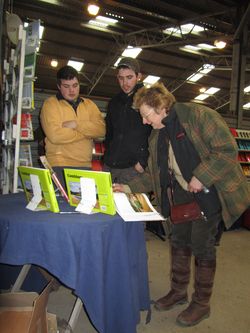 We enjoyed a good Malvern tractor show at which there were lots and lots of visitors on the first day. Fewer came on Sunday but those who did were entertained by the Wurzels.
Just behind us on the Classic Tractor Books / Japonica Press stand Sue Morgan was kept busy signing copies of her new book.
Combines in Colour, a beautifully presented 214-page hardback is available from Japonica Press at £22.95. Sue Morgan has several times won farm machinery photograph competitions. Many of the images in her book are superb.