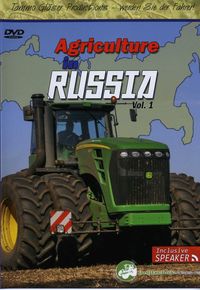 Agriculture in Russia Vol. 1, Tammo Gläser. DVD approx 90 minutes. ISBN 978-1-908397-00-3. Now in stock at Old Pond at £19.95 inc VAT.
For his latest look into farming methods and machinery Tammo Gläser has selected the black earth area of Russia. This lies around the city of Voronezh, south-west of Moscow and close to the border with Ukraine. Noted for the fertility of its soil, this region hosts some mega-farms, with three holdings cultivating a million hectares between them.
Tammo looked at four principal activities: the end of the sunflower harvest; stubble cultivation, drilling wheat and the start of the beet harvest. He also visited a state-of-the-art dairy farm.
The season had been a dry one. Outbreaks of fire were visible on the horizon; the beet and sunflower crops were meagre, and the correct depth for drilling – very shallow – was a constant challenge for the agronomists.
Given the scale of the enterprises, some of the machinery was large, with John Deere prominent working with Vaderstad equipment. There were JD9630, 9530, 8430, 8420 and 8330 tractors. Another powerful beast was the Kirovets K744. On a more domestic level Tammo recorded several examples of Belarus at work.
The sunflower harvest was handled by Don harvesters, an Acros 560, NH TC56, Claas Lexion 530s and NH CX8070.
The beet harvest was difficult not just because the yield was low, but also because the individual beets differed in size, making it difficult to determine harvester settings. Among the machines were Holmer Terra Dos and Ropa Tiger 83. Needless to say, after a delayed start to the campaign the beet factory quickly closed its doors and deliveries had to wait.
Russia is striving to become more self-sufficient in agricultural production and foodstuffs. This DVD gives an insight into how mechanisation is serving this end and some of the obstacles that have still to be overcome.
Another of Tammo Gläser's DVDs available from Old Pond is Agriculture in North America Part 2.