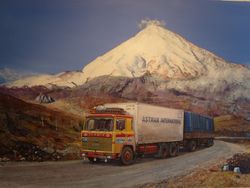 Charles Trace, Chairman of the Point Foundation, tells us that he has commissioned this stunning painting of Astran at Ararat by Alan Spillett. A limited number of prints, framed and unframed, will be on sale at the Gaydon vintage truck show on 12 June.
The prints will be sold to raise funds for The Point Foundation, a registered charity which supports orphans in Africa, predominately in Rwanda and South Africa.
In May 2008, the Foundation was delighted when Sally Gunnell OBE accepted the role of Patron. Today the Foundation raises funds and provides on the ground support for 5 major projects helping around 2500 children, most of whom are orphaned and live in institutions. The projects are based in Southern Africa where 85% of the children are HIV and in Rwanda, which does not have the same Aids problem but has many of their own following the genocide of the mid 90's.
In the autumn Old Pond will be publishing Alan Spillett's second book of truck paintings, Roadscapes II.