It was 1941. An Ipswich bus driver's daughter, seventeen years old, fond of film and dancing was bored with her work as a machinist making khaki uniforms. She lied about her age and was accepted by the Women's Auxiliary Air Force. This was the start of memorable years for Jean Bailey.
After training at Innsworth, near Gloucester, Jean was posted to RAF St Athan, Glamorgan. There she repaired parachutes and started on the series of escapades that she recalls with glee in her recently published book.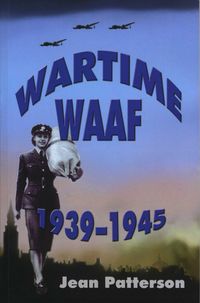 Jean moved on to the Electrical and Wireless Technology workshop, a unit humming with activity. She learned to modify obsolete equipment and repair broken parts of aircraft such as generators, magnetos and switches. In her free time she studied the electrician's trade, becoming one of the first six WAAFs ever to pass the trade test board for electricians. Jean Bailey was now Leading Aircraftswoman Electrician II. She was also fire-watching, continuing to get into scrapes and falling in love with a St Athan airman, Pat.
At nineteen Jean was engaged but posted away from Wales to London. At the Battery Clinic in Kidbrooke, SE London, she processed unserviceable batteries for 'ground use only'. Besides separation from Pat, Jean had to endure air raids, incendiaries and then doodlebugs. She and her colleagues were sleeping as best they could in an air-raid shelter, and there were a couple of very near misses.
Jean and Pat were unfortunate with the date they chose for their wedding – just before D-Day when all leave was cancelled. Typically, Jean did not let that get in her way, opting to go AWOL. She was now Jean Patterson, posted back to St Athan where she was demobbed, expecting her first child, just before the end of the war with Japan.
Jean Patterson's book, Wartime WAAF 1939-45, is a paperback, privately published at £8.95. Copies are available from Polstead Press or from local outlets such as the Ipswich tourist office: 01473 258070. Jean Patterson lives in Ipswich.