Walking with Giants: Europe's massive earthmovers, Steven Vale. Hardback book, 280 x 220 mm, 320 pages inc. 400 colour photographs. ISBN: 978-1-906853-83-9 In stock at Old Pond at £29.95.
Phosphates and gold in Finland, copper in Sweden, limestone in Holland, coal in Wales and Spain … throughout Europe the raw materials for industry, construction and power are being excavated every day.
Steven Vale looks at fourteen European countries to show the diversity of surface mining machinery and techniques. He describes the regions in which the mining is set, provides information about the industries they serve and portrays some of the characters involved.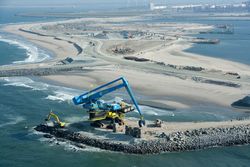 Steven's fine photographs and detailed text then show the excavators, dozers, wheeled loaders and dump trucks, many of which are the largest in their classes. Some of these are veterans, others are the most modern available.
He reveals why the mine managers selected particular brands, how they feel about their selection and whether they are likely to continue with the same choices in future. He also describes how the mines are facing up to the environmental challenges which increasingly affect them.
Massive machines, with famous names – Liebherr, Caterpillar, Komatsu, Hitachi, O&K, Terex, LeTourneau, Demag, Bucyrus – will give enthusiasts plenty to savour in this first book to look comprehensively at European surface mining activity.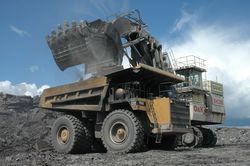 Steven Vale, an Englishman based in Holland, is European correspondent for Earthmovers magazine. He is a life-long machinery enthusiast with an unequalled knowledge of the European scene. He has organised and scripted an impressive range of earthmoving DVDs for Old Pond.