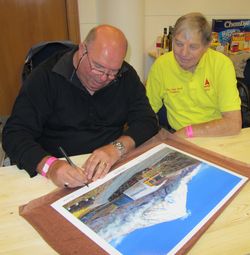 Rain on the second day at the Gaydon vintage truck show in no way diminished the enthusiasm of Gordon Pearce (right in the photograph). He and Ray Neale were signing copies of Alan Spillett's new 'Astran at Arafat' print. For a clearer image of the print and a note about Charles Trace's work with the Point Foundation on whose behalf he commissioned the painting see the blog of 17 April.
Gordon Pearce and Ray Neale were both pioneers on Astran's long-haul trucking routes and passed by Mt Arafat on many occasions. The painting is based on one of the photographs Gordon took all those years ago.
Ashley Coghill's book The Long Haul Pioneers contains some outstanding photographs by Gordon as well as shots of Ray and Gordon themselves.