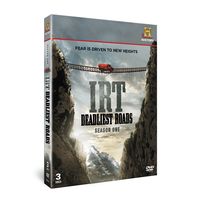 IRT Deadliest Roads Season One, The History Channel, 3-DVD set, approx 6½ hours. ISBN 978-1-908397-05-8. Available now from Old Pond at £19.95 inc. VAT.
Lisa Kelly overcame exhaustion, fear and unwanted attention when she became 'the first lady in India to drive a big truck'. And what a place to drive it!
She and her Ice Road Trucker colleagues Rick Yemm and Dave Redman were up in the Himalayas hauling across the 13,000 ft Rohtang Pass. The Canadian/American comrades had to adapt to driving low-powered, manual-transmission Tata 1613 trucks, conscious that they would have no protection from the wooden framework if they had a serious accident. 'Matchboxes on wheels' was how they described them.
There was plenty of scope for mishaps on narrow, switchback roads with unguarded sheer drops and kamikaze drivers. Whereas in the southern valleys the cab heat could reach 115 °F, up on the pass snow and fog were among the hazards. There were testing road conditions with rock falls, mud slides, treacherous bridges and long delays as traffic built up.
During their 6-week employment the drivers learned to cope despite illness, extreme tiredness and conflict with two of their Indian minders or 'spotters'. In the end Lisa and Rick became solo drivers – but it was the camaraderie and mutual help of the three truckers, as well as their skill, that saw them through.
The Rohtang Pass is only open for part of the year, hence the urgency to get building supplies across. Their final task was to take badly needed jet fuel up to a helicopter rescue unit at Sissu. One of the three truckers completed the assignment. Guess which one....