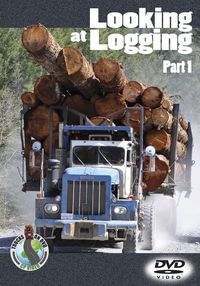 Looking at Logging Part 1, Pete Connock & Martin Phippard (CP Productions). DVD, approx 90 minutes. ISBN 978-1-906853-97-6. Now in stock at Old Pond at £16.95 inc VAT.
Logging transport has a special place in the world of trucking. The vehicles are large, powerful and have to withstand heavy work day in, day out. They often operate in demanding terrain on narrow mountainous roads in rain or ice. The skills of the truckers are matched by those of the timber handlers working in cramped locations with specialised machinery.
This is the first of a pair of programmes in which Pete Connock and Martin Phippard offer an inside view of logging transport around the world. They look briefly at the history of timber extraction before taking us to Finland where a Sisu demonstrator is hauling timber close to the Arctic Circle in the depths of winter.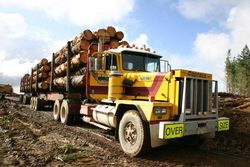 On Vancouver Island, Canada they show us Kenworths operated by Western Forest Products. In the southern hemisphere they have filmed truck combinations coping with the rugged terrain of Tasmania. On New Zealand's north island they show the power of Rod Dahm's Pacifics .
Finally, they take a look at Dai Wood's logging operation in Wales where he uses the first Volvo FMX tractor unit sold in the UK.
For over fifteen years Pete Connock and Martin Phippard have been making trucking programmes for enthusiasts. These popular films are well researched and fully narrated. More of their programmes are shown in the Trucking DVDs from CP section of the Old pond website.
Part 2 of Looking at Logging has now been released. The two parts are available together as a money-saving set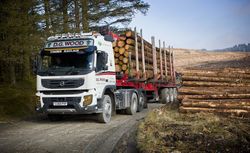 on the offers page of the Old Pond website.