In the blog of 4 September we showed some Liebherr machines recorded in preparation for Steven Vale's next DVD Massive Wheeled Loaders. This is due from Old Pond late spring 2012.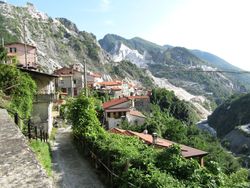 The first image is of Colonnata, a quarry village high above Carrara.
The machines and trucks shown are: Hitachi 800H prising out a 400-tonne marble block; Hitachi ZW 550 loading a block and waste; hedge Magirus Deutz; a loaded Iveco Trakker 440, and a Fiatallis FR 20B working deep underground in an excavated hall.