Earlier this summer we accompanied Steven Vale to Carrara, Italy, to film in a couple of marble quarries where some serious wheeled loaders can be found working. On the first day the machine of greatest interest was Liebherr's largest wheeled loader, the 586.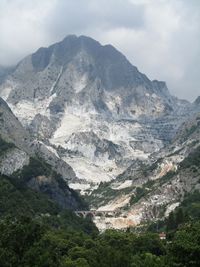 We were kindly allowed access to quarries owned by Giulio Vanelli, the third generation of his family to run this privately owned concern. Site foreman Claudio Mazzi looked after us with the help of translator Adèle Iliovits.
The wheeled loader comfortably handles blocks of 24-27 tonnes and, at a value of 3,000 euros per tonne for first-class marble, good handling is important. However, some 70% of the marble is rejected, and at the lower end of quality the value is only 70 euros per tonne.
The footage will be appearing in Steven's DVD Massive Wheeled Loaders to be released by Old Pond next year. Meanwhile Steven's book, Walking with Giants: Europe's massive earthmovers has been printed ready for publication in a month's time.
As the first photographs show, the Carrara area is certainly striking, the mines dwarfing the equipment. The machines shown are Liebherr 586 2 plus 2, Volvo L350F and Liebherr 974 Litronic.
There are more photographs, principally of Hitachi machines, in the blog of 30 October.