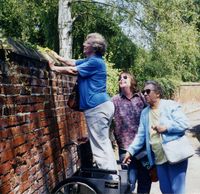 The Radio Times issue 5-11 November includes on page 51 a preview of the new BBC1 drama series Land Girls.
Writer Roland Moore says that his inspiration was a photograph he had seen of former land girls returning to their wartime billet and looking over the wall at the rectory that was once their home. He saw the image in one of our books, Land Girls at the Old Rectory, by Irene Grimwood.
The photograph below shows Irene at the Suffolk Show launch of her book in June 2000. We have recently reprinted it for the third time. (Photo: Martin Looker, BHR Communications.)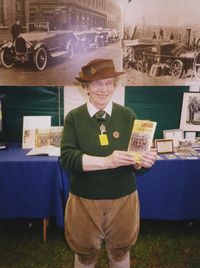 Four years ago Irene was invited back into the rectory - blog 27 January 2008 – to be interviewed by ITV Anglia. Now approaching her 90th birthday, Irene continues to live in Ipswich.
Old Pond has four books of reminiscences and one DVD in the Land Girls section of our website.