The second part of Chris Lockwood's Beet Harvesters in Britain (see previous blog) will cover the period 1995-2012.
The focus is on advances such as having more axles to spread the massive weights involved, more rows and more technical monitoring. The programme will also cover the recent trend towards specialised 'beet chasers' in the field and specialised cleaner-loaders.
Here are stills of six examples.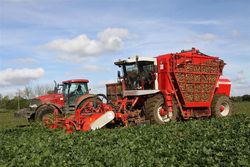 Probably the most well-known six-row beet harvester in Britain today: the Vervaet 17-tonner.
It is believed there's currently only one 12-row harvester at work in the UK, which is this 2003 Agrifac Hexa.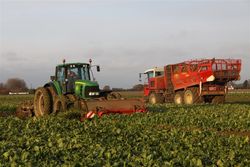 A Gilles two-stage set-up, which is more popular on the continent and rarely seen in the UK.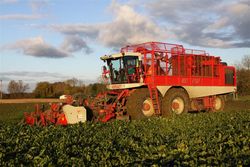 The Vervaet Beet Eater 625 is another popular harvester.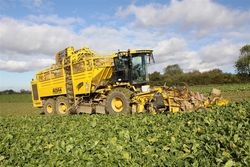 The Ropa Euro-Tiger is one of the largest harvesters currently available on the UK market.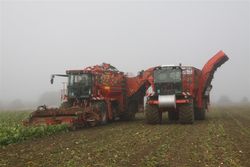 Emerging from the sea-mist, a Holmer Terra-Dos T3 harvester empties into a Holmer Terra-Transport beet transporter.
Old Pond Publishing expects to publish the two parts of this programme together in April.The DVDs include 75 machines from the following manufacturers: Agrifac, Armer Salmon, Catchpole, Cebeco, Edenhall, Garford, Gilles, Grimme, Holmer, Italo Svizzera, Kleine, Matrot, Moreau, Ransomes, Rational, Riecam, Ropa, Standen, Stoll, Thyregod, TIM, Vervaet and Vicon.
Chris claims that this will be 'probably the most thorough programme on beet harvesters ever.' Who could disagree?