The death has been announced of Julanne Arnold, formerly books editor at Farming Press. Julanne died peacefully on Sunday 25th after several years' illness. She was 81.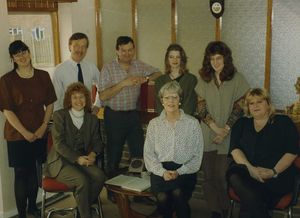 In the photograph from December 1993 Julanne is centre front in a pale blouse. Around her, left to right, are Farming Press staff: Catherine Britton, Annie Shead, Roger Smith, Peter Melling, Samantha Blain, Claire Newbery and Sue Dalgleish.
Julanne was loved by us all for her warmth, humour, wide range of interests, knowledge and intelligence. She was a superb editor, as the authors with whom she worked during her ten years at the company said time and time again.
Julanne came out of her retirement to undertake free-lance editing in the early days of Old Pond. She and her husband Roy offered the great support that was just what we needed and for which we will always be grateful.
Julanne Lynn was born in October 1931 in Chester, South Carolina. After university she became an editor for the book publishing company Harper & Row in New York where she met Englishman Roy Arnold who also worked in publishing. They were married in 1963. Julanne and Roy settled in England, at first in London, then thirty years ago in Needham Market, Suffolk. There Roy ran an historic tools trading, publishing and bookselling business.
For many years Julanne worked as an editor for Egon Ronay, leaving in 1987 to join Farming Press, locally based in Ipswich. Roy Arnold died in December 2009.
Julanne is survived by her sister Willa, son Harry and daughter Kate as well as grandchildren Gabriel and Isabel. From 2008 Julanne ran a personal blog which you can log on to here. Her memorial service was held at St John the Baptist Church, Needham Market, on 10 December. The Order of Service and some memorable tributes by Willa, Kate and Harry can be found here.