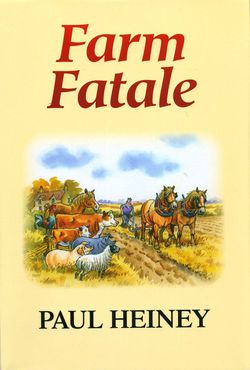 Farm Fatale, Paul Heiney. Hardback 234 x 156 mm, 200 pages inc. 14 line illustrations. ISBN 978-1-900318-44-0 (Excellent Press). Now in stock at Old Pond at £12.99.
In the early 1990s Paul Heiney set aside his broadcasting career and swapped it for a life on the land. He decided that he would start his own farm and it would be like no other farm you could find.
Shunning modern intensive methods, he reverted instead to a system of farming that his great grandparents would have known. He ploughed, sowed, reaped and mowed with cart horses rather than tractors, employing mighty Suffolk Punches that were once the workhorses of agriculture in the eastern counties.
He gathered round him a small band of local and aged helping hands to help steer him through the up and downs of farming life; along with a collection of native breeds of cattle, sheep and pigs that had found no place in modern food production but which he thought would be very much at home on his farm.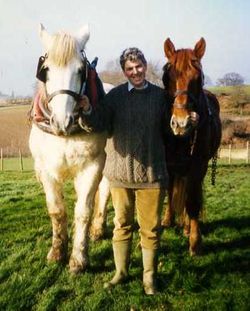 Although he was prepared for the hard work that would follow, Paul could never have guessed how the story of this little farm would unfold. His life became overwhelmed by all the disasters and rewards that a farming life can bring; his livestock showed him little respect – and took every opportunity to remind him who was really in charge.
This book, awash with not only blood, sweat and tears but a great deal of good humour, tells a story of the changing seasons in the countryside seen through the eyes of a man in determined pursuit of a dream.
Paul is a well-known writer and broadcaster in the UK and over 30 years has appeared on all Britain's major radio and television networks. You can currently see him each week on 'Countrywise'. He spent seven years on BBC1's top-rated show, 'Watchdog', developing a career in consumer journalism that had begun with 'That's Life' in 1978, and continued later with Radio 4's 'You and Yours'.
Despite his very busy life, Paul found time in 1993 to create Harnessed to the Plough, a highly successful programme in which you see the life of Roger and Cheryl Clark farming with Percherons and Suffolk Punches. This is available as a DVD from Old Pond, as are five other programmes, four of which were made for ITV Anglia. All these DVDs, as well as the Old Pond book The Traditional Farming YearThe Traditional Farming Year, reflect Paul's deep feeling for our rural past.
Paul lives in Suffolk and is married to broadcaster Libby Purves. He is an enthusiastic ocean sailor.