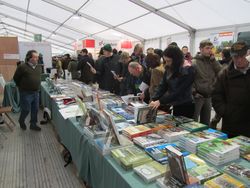 Thank you everyone who visited our stand at LAMMA. After last year which for us was a 'difficult' show, this year was much better, with plenty of visitors.
Thank you, in particular, to the steward in Hall 4 who at the breakdown on Thursday monitored vehicle movement in the hall.
In the photograph the man running the stand is Old Pond's Bob Perry.