Sheep dogs, Heavy Horses, Pony Riding and Appleby Fair are all sets of episodes where Jack Hargreaves visits numerous places throughout the UK in these Out of Town - The Lost Episodes Box Sets. 
In his own unique easy going style, Jack Hargreaves introduces country crafts and pursuits, animal husbandry, fly and coarse fishing, gypsy fairs, hobbies, nature and a way of life with a depth of knowledge rarely equalled.
At only £5.99 each, these are definately an Old Pond bargin not to be missed.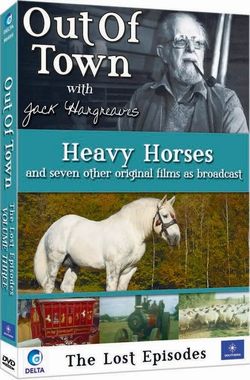 Firstly, we have Heavy Horses, four episodes of Out of Town in which Jack visits Dorset to see the mane of a heavy horse dressed, and also does some fishing. 
Following this, Pony riding includes pony performances in New Forest including fly fishing and Grayling fishing trips, all split across three episodes. 
Jack heads over to Tregaron in Wales for the Sheep Dogs box set. He visits a sheepdog sale on a bitterly cold day as well as visiting a farm in Hampshire where the local young farmers' club members demonstrate generations-old methods of carn-threshing.
Finally, jack takes a trip into the past at the Appleby Fair in Cumbria where he enjoys demonstrations of some old country crafts. He also goes barbel fishing in another episode, with the Ringwood Anglers' Club on the Lower Hampshire Avon.
These box sets are a great way to explore and learn about country life in rural Britian. To order or take a look at each episode in further details, please click on each boxset below.