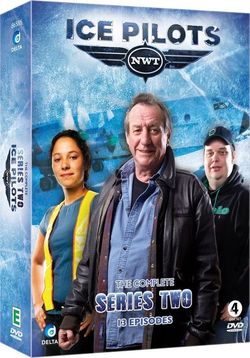 Ice Pilots NWT is a 13-episode real-life docu series about an unorthodox airline in the Canadian North. Yellowknife-based Buffalo Airways flies WWII-era propeller planes big old aircraft built by "Rosie the Riveter" and pretty much unchanged.
Rookie pilots defy bone-chilling temperatures to fly cargo and passengers through blizzards, breakdowns and transatlantic journeys. It's an impossible job in a merciless place.
New recruits come to slog it out on the ramp in -30°C weather to earn a chance to fly planes that most airlines scrapped long ago. Classics like the Douglas DC-3 and DC-4 and the Curtiss C-46 Commando, the very planes that once ferried troops and supplies in WWII. 
Few newbies make it. As they compete to rise up the ranks, they cope with ice storms, forest fires, treacherous landings and legendary owner "Buffalo" Joe McBryan's famous temper. Buffalo Airways is literally a lifeline to the North. As Joe's son Mikey McBryan puts it: "You can't separate the North from flying. It's the same thing." Without Buffalo Airways, food and supplies wouldn't reach the many northern communities cut off from the rest of the world during the long, harsh winter.
This season on Ice Pilots NWT, viewers will follow a treacherous transatlantic journey in the middle of winter as crews attempt to deliver two Canadair CL-215 waterbombers to their new owners in Turkey. The problem? These aircraft aren't designed to fly in winter conditions and aren't configured for flying over larges bodies of water. Getting there proves to be a daring feat. 
Viewers will also watch the drama unfold as pilots fresh out of flight school pay their dues as"rampies", anxious for a chance to fly. Rampies load cargo, sweep snow off the wings and log hours as flight attendants, competing fiercely with one another for the next coveted co-pilot position. Friendships among pilots are also tested as they vie for enough flight hours to make captain. By the end of the season, someone will be leaving Buffalo Airways. Ice Pilots NWT gives viewers a rare look at life "north of 60". With the economic downturn, a dwindling supply of speciality aviation gas and the high cost of flying vintage aircraft, the very future of Buffalo Airways hangs in the balance.
To order your 4 DVD box set please click here