Seriously large hydraulic excavators are the subject of Steven Vale's next DVD. But this time he has left the quarries and mines and gone onto the water to track down and film the world's largest under water diggers.
Rivers, canals, lakes, ports and harbour entrances need dredging on a regular basis to prevent sediment from building up. Much of the lighter material is removed by massive suction dredgers.
But these are no good at some new port and harbour-widening and deepening projects where heavy clay and rock is encountered. In these cases powerful hydraulic excavators are called in to reach down into the murky depths.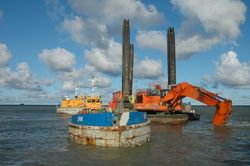 In 2009 the film crew visited the port of Raahe at the top end of the Gulf of Bothnia in northern Finland.
The project was in the hands of international dredging company Royal Boskalis Westminster. It was tough digging and a race against time before the return of the Arctic winter when the sea freezes.
Three of its most powerful excavators were working round the clock to ensure the job got done on time.Severed from their undercarriages, the upper structures of two Hitachi EX1900s (left and bottom) are bolted to pontoons known as Attila and Koura.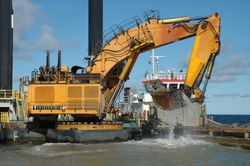 But even these powerful nautical marvels are dwarfed by the Nordic Giant, the dredging company's biggest backhoe dredger.
Time after time the Liebherr P995 hydraulic excavator (right) scoops up nearly 35 tonnes. This ferocious machine easily fills a split barge in just three-quarters of an hour.
The film crew were out and about quite a lot in late 2009 tracking down some even more powerful under-water diggers.
Old Pond expects to have this new programme on sale in October.
For a second series of massive backhoe dredger stills see the blog of 8 July and for full advance information see blog 19 August.