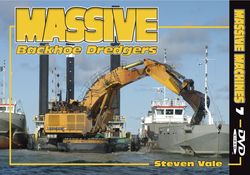 Massive Backhoe Dredgers by Steven Vale. DVD, approx 100 minutes. ISBN 978-1-906853-36-5. In stock at Old Pond at £17.95.
Steven Vale shows some of the world's largest and most powerful pontoon-based hydraulic backhoe dredgers at work.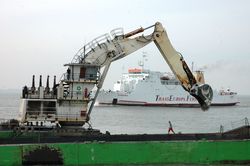 These enormous machines – often adapted mining excavators – serve the needs of ports, deepening their seaways and building new facilities to handle ever-larger cargo vessels.
By UK standards, machines shown in the first part of the programme such as the Liebherr P964 and Caterpillar 375 are impressive. However, Steven moves on to some truly massive floating dredgers.
Developing the southern end of Felixstowe's Trinity terminal is 'Maricavor' a 300-tonne Komatsu PC3000. At work in the Finnish Gulf of Bothnia are two Hitachi EX1900s and 'Nordic Giant', a Liebherr P995 that shifts 12,000 cubic metres of material a day.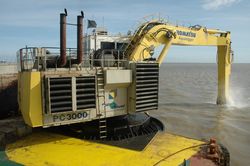 An even larger Liebherr, a 520-tonne P996 capable of reaching down to 37 metres, is operating in the hazardous seas off the Belgian coast at Ostend. Hazardous because of the unexploded bombs it regularly dredges up.
Steven Vale uses interviews to highlight some of the choices and issues faced by the operators of these machines.
He finishes by offering us an insight into an even more exciting future - that of the Backacter BA1100, one of a new class of hydraulic dredger that is specifically made for the task.
Some stills from the filming can be seen on the blogs of 8 July and 30 April.
For more programmes by Steven Vale see the Earthmoving and Demolition section of the Old Pond website.