In May 1979 two young Englishmen travelled to Oklahoma to become members of Dale Starks' harvesting crew.
For Rob and Charlie this was the start of memorable years driving Massey Ferguson combines the length and breadth of the American wheat belt. This is Rob's story, a vivid account of endless hours of work, rattlesnakes, truck wrecks, summer lightning, tornados, favourite bars and the 'honeys' at the grain elevators.
Starks' Harvesters by Robert S White. Paperback 216 x 138 mm, 176 pages including 29 photographs. ISBN 978-1-906853-46-4. Now in stock at Old Pond at £9.95.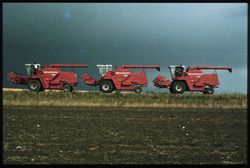 Rob went on to do five years' harvesting with Dale Starks who comes to life in these pages with all his wisdom and cussedness. This is the man who starred in Yellow Trail from Texas, the BBC documentary that first inspired Rob and Charlie to make the trip.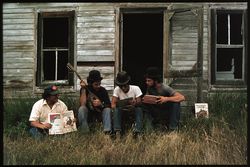 In England, Rob was working as an agricultural contractor. For him, machines and harvesting were more than a way of life – they were a passion. This enthusiasm, which brought Rob long-lasting friendships from his American days, illuminates every page of his book.
To buy Yellow Trail from Texas and other custom cutter DVDs see here.
A short note of Dale Starks' death is on the blog at 3 December 2007. An interesting account of working with Dale by 'Young Tom' is on the blog of 8 February 2009.