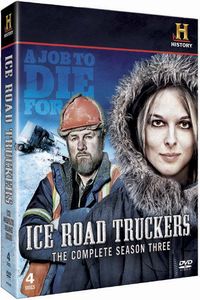 Season Three of the Ice Road Truckers saga has been given a new dimension with the appearance of Lisa Kelly. This former school bus driver and state freestyle motocross champion makes light work of handling her Kenworth W900 tractor trailer.
Ice Road Truckers: the complete season three, the History Channel. Four-disk DVD set, approx 10 hours viewing. ISBN 978-1-906853-43-3. Available 10 May from Old Pond at £19.95.
Some of the veteran drivers – Hugh Rowland and Alex Debogorski – are also in the show, moving with it from Canada to northern Alaska. Once again, their job is to use the three-month window of opportunity to haul oversize loads of critical supplies to isolated communities. This time it's America's booming North Slope oil fields.
This is dangerous work. The History Channel calls it 'a job to die for' and says that the 414-mile Dalton Highway, the most dangerous road in North America, has claimed the lives of more than four hundred people since it was built just thirty years ago.
A pretty woman driver, grizzled veterans, outsize loads hauled against the clock on treacherous, snow-bound tracks – it all makes for fascinating viewing.
To obtain the other Ice Road Trucker DVDs go to Old Pond's earthmoving and trucking DVDs.